Dianna Bonder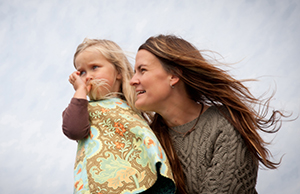 Dianna was born in Kamloops, BC, in 1970. As far back as she can remember she has been drawing and writing stories of faraway places and imaginary characters, inspired by the beauty of Alice in Wonderland and James and the Giant Peach, and the quirky words of Shel Silverstein and Dr. Seuss.
"My mother nurtured the love of children's books in me . . . she taught elementary school and theatre and would often write children's stories for me to illustrate. As an only child I would spend hours colouring and drawing, so when my mother gave me stories of her own to draw pictures for, I was over the moon!"
After studying fashion illustration in Toronto for two years, Dianna went on to study fine arts, illustration and commercial design at the University College of the Cariboo. Shortly after that, she moved to Vancouver to pursue a career as a commercial artist. Becoming increasingly disenchanted with the industry, and quickly tiring of the day-to-day hustle and tight deadlines, Dianna quietly developed her unique style of illustration in the privacy of her own home. She then found her way into the exciting world of children's picture books.
After the enormous success of her first book, A Pacific Alphabet, Dianna went on to write and illustrate her bestselling book Accidental Alphabet. It wasn't long before she embarked upon a four-year stretch of non-stop illustration, and several books followed: Three Royal Tales, Digging Canadian Dinosaurs, Leon's Song, the award-winning Eleven Lazy Llamas, Black and White Blanche, the award-winning Dogabet and The West is Calling.
In the fall 2016 Dianna was named IBBY Canada's Illustrator-in-residence. Dianna residency will be at the Stanley A. Milner branch from October 17 to November 10, 2016.
Dianna's books have come to decorate the rooms of children and adorn the shelves of libraries throughout the world. Not a traveller crosses her path who doesn't take a little bit of Dianna home with them.
With more than ten books to her credit, Dianna shows no signs of slowing down. "My diary is filled with new ideas, stories and sketches. Whatever inspires me makes its way into my little black book. I love to watch the world unfold in front of me . . . so much happens in a 24-hour period. I have more ideas than I know what to do with."
Dianna resides on Gabriola Island, BC, with her two daughters, Ekko and Nico, her husband, Lee, and their two dogs and two cats.