Gatherings Blog Tour
Every day this week Canadian food bloggers are celebrating the cookbook Gatherings, by Julie Van Rosendaal and Jan Scott with posts of recipes, tips for entertaining, stories of memorable gatherings, and more.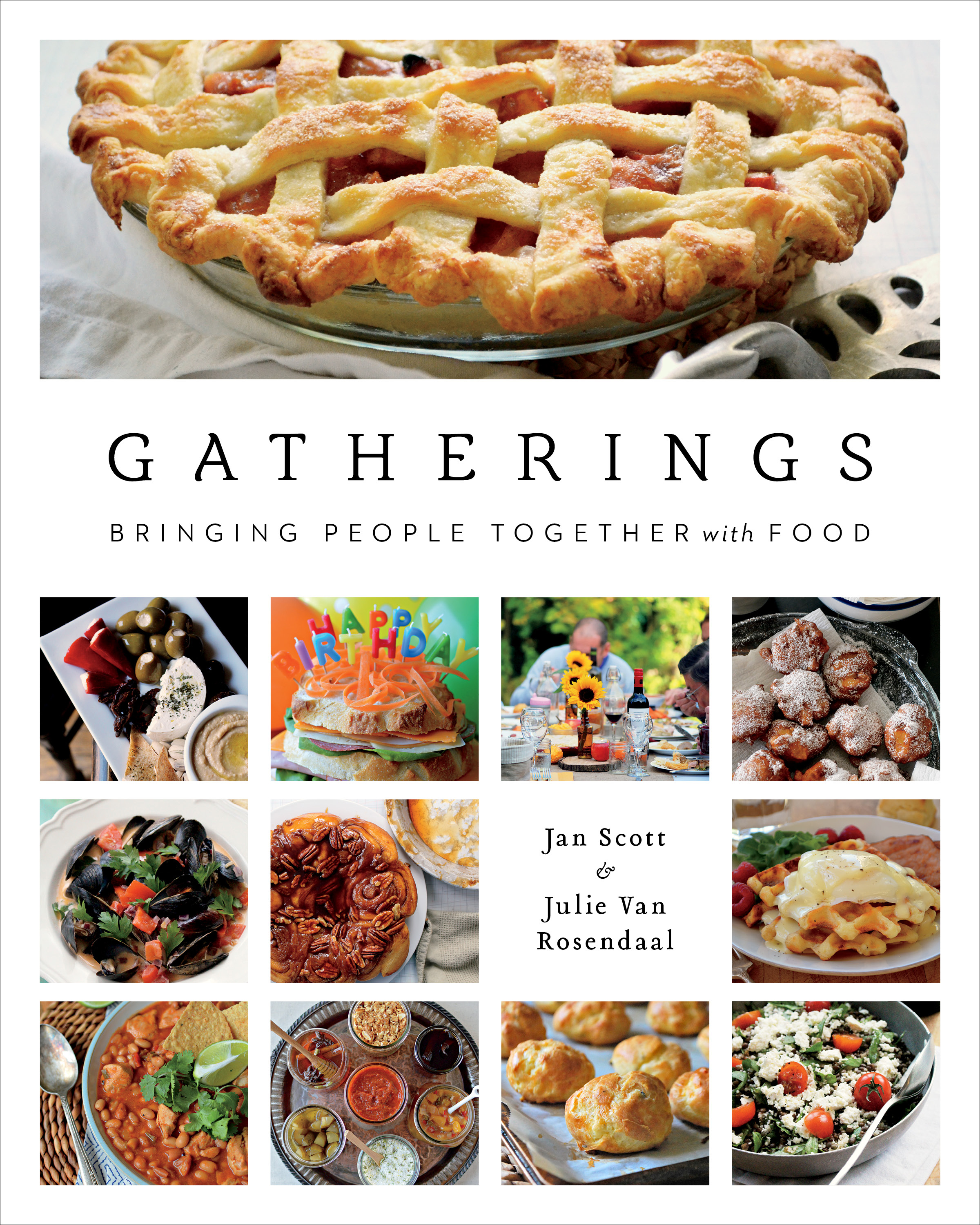 Follow along to hear what passionate cooks are learning from this book, and to get a little peek at the good advice and good food that Gatherings has in store for anyone looking to bring people together around the dining room table. Blogs from across Canada are going to be posting about the book this week, so use the list below follow the bloggers celebrating Gatherings.
Monday
Mairlyn Smith chose Gatherings as one of her top new Canadian cookbook picks
Charmian from The Messy Baker wrote about the Pecan Bourbon Blondies
Mardi from eat. live. travel. write wrote about the top tips for entertaining that she learned from the book
Tuesday
Amy from Family Feedbag has a giveaway!
Jennifer from Seasons and Suppers made a gorgeous pork tenderloin with maple-balsamic cranberry sauce
Heather from The Tasty Gardener made Parmesan thyme puffs
Wednesday
Isabelle from Crumb Blog made Nenshi Pie
Jenny from The Brunette Baker made a pear and cardamom cream cheese tart
Stephanie from Clockwork Lemon made Sweet and Spicy Mixed Nuts
Valerie from A Canadian Foodie made bacon wrapped dates
Thursday
Britt from My Daily Randomness made pulled pork with real baked beans
Robyn from Planet Byn made peanut butter and honey granola
Libby from Libby Roach Photography made braised beef short ribs and Yorkshire pudding
Meg from Sweet Twist of Blogging made peanut butter balls
Friday
Christina from Strawberries for Supper made "the best chicken fingers ever"
Louisa from Living Lou made prosciutto wrapped prawns
Liliana from My Cookbook Addiction made simple French onion soup
Rhonda from Olive and Ruby made sticky cocktail meatballs
Jenn from Chocolate Shavings made roasted Brussels sprouts with grainy mustard sauce