Cory Parsons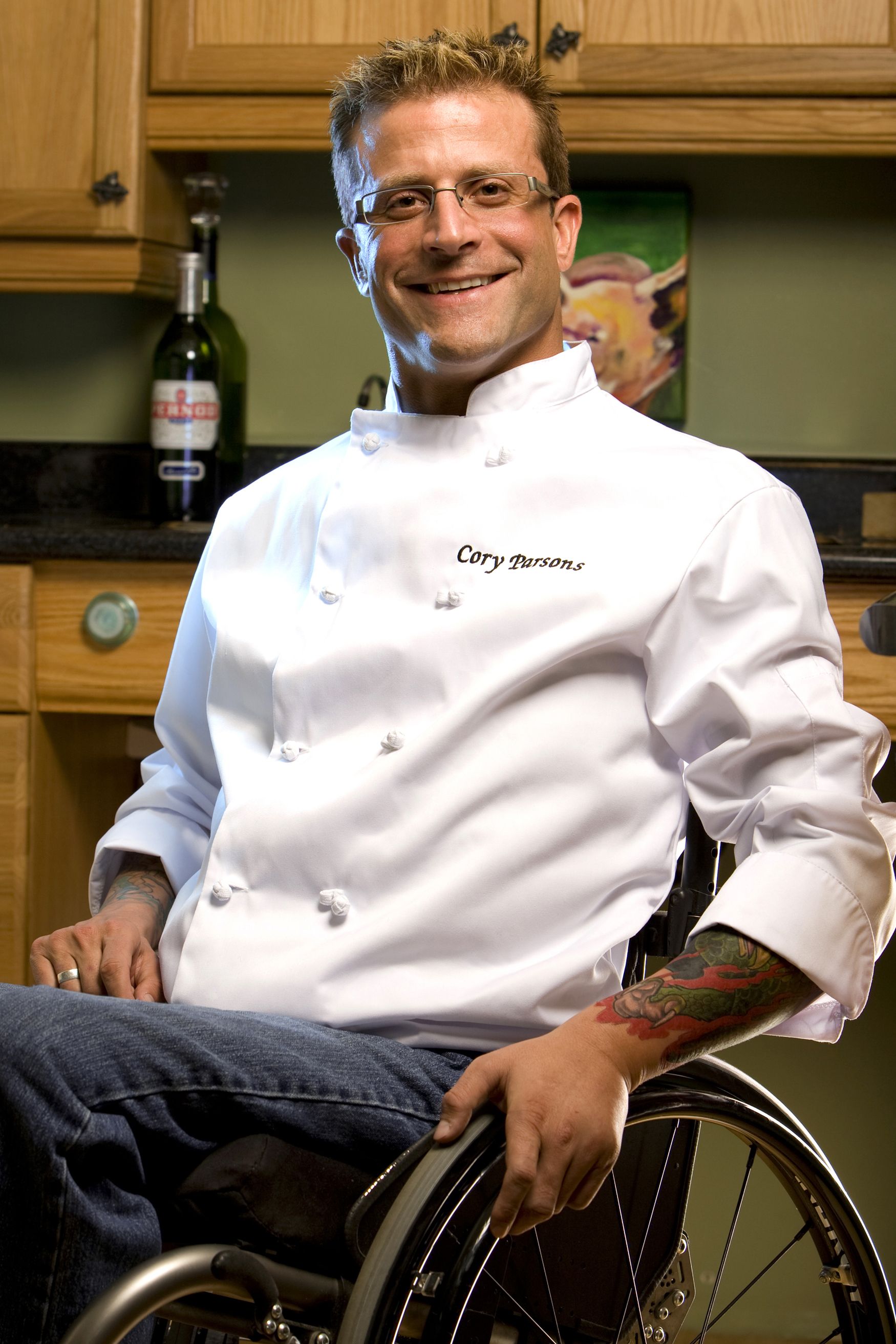 Born in 1974 in the small town of Kitimat, on the west coast of Canada, Cory Parsons was a rambunctious and adventurous kid. After moving to Vancouver Island in 1988, to another small British Columbia town—Nanaimo—Cory found himself growing up very quickly. He moved out on his own at the age of 16, still in high school, and needed to work to support his independence. At that age his employment options were limited, but he found work in the restaurant industry, and he loved the fast-paced social environment.
At the age of 23, Cory suffered a diving injury that left him quadriplegic, paralyzed from the chest down and impairment to both his arms and his hands. Since the accident his life has changed drastically. He returned to university and studied psychology, recreational therapy, and earned a diploma in crisis counselling, but his love of the culinary arts could not be diminished.
Cory now works as a consultant for accessibility and personal relations for persons with disabilities for both businesses in his community and the Vancouver Island University. He is also a motivational speaker, sports advocate, and spokesperson for Canassist at the University of Victoria. Cory enjoys working part-time at a local fitness center as a personal trainer and nutritional counsellor when he's not spending time at his home, affectionately known as "the Parsons Ranch" with his two black labs named Bamm and Chase, and a cat named Scout (who's 11 and thinks he's the boss of everyone).
When he's not working out of town, Cory can be found at the "ranch" playing with his animals or working in his organic garden and looking for cooking inspiration everywhere!
In 2009, Cory became the very first quadriplegic in history to take part and race in the world championship bathtub races in Nanaimo.
Cory believes that the only limitations we face in life are the ones that we put on ourselves: "Whenever you find yourself in a situation where you doubt your success, simply repeat to yourself 'yes you can'! It has worked for me and it can work for you, too!"