Spencer Watts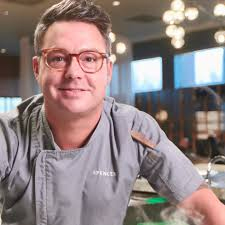 Spencer is a Canadian born chef with an infectious enthusiasm and undeniable charm. His honed knife skills, beautiful plating techniques, and balance of flavours make every meal an adventure. What's Spencer's secret? He genuinely loves what he does.
A pop culture junkie, Spencer will riff on movie quotes and impressions and dance in the kitchen while poaching salmon or plating tartare. Growing up on the lower mainland of British Columbia, Spencer was exposed to the vast array of fresh local ingredients. He began his culinary training in high school. He then went on to graduate at the top of his class in culinary school and quickly progressed through the rankings at the Westin Grand Hotel and C Restaurant, while being trained by some of the best local talent on the culinary scene.
In 2006, as Chef De Partie of the Coast Tsawassen Inn, Spencer edged out approximately 60 competing chefs from across British Columbia to win City TV's Vancouver Master Chef Competition at the age of 24.
In 2007 he pioneered the sustainable seafood movement on the sunshine coast and opened his first restaurant "Spence on the Coast" bringing his love and passion for seafood to locals.
He joined Canadian Rocky Mountain Resorts team as Head chef of the Painted Boat Resort & Spa in 2010, bringing with him a vision of sustainability, and a willingness to push culinary boundaries.
Culinary Team B.C recruited Chef Watts, (while Chef of the Painted Boat) to compete in the World Culinary Olympics in Erfurt Germany, October of 2012. Team B.C came home with a silver medal in their category, and again at the world culinary masters in Basel Switzerland (silver medal).
He also started his first television series with the local cable channel which eventually led to the creation of almost 100 episodes of prime time television. A fast favourite with viewers, the shows Spencer has hosted have twice won the Oscars of food television: The James Beard Award.
Spencer loves to travel and is up for trying any new dish or ingredient. Globally-inspired cuisine with classic techniques and a touch of fun is how he likes to cook. He loves to share approachable new recipes with food loving friends and fans, often using everyday ingredients in new and ingenious ways. He is committed to helping support and encourage sustainability and helping to give people the confidence to cook and experiment with new flavours with their kitchen.
Visit Spencer's website at chefspencerwatts.com.
Books by Spencer Watts
Sort By